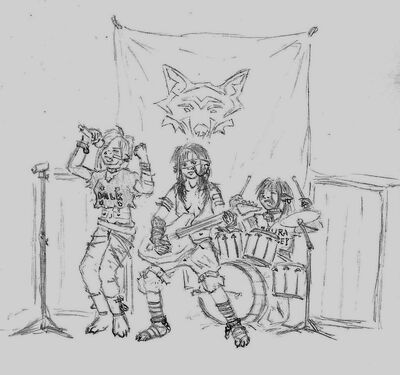 The Chained Wolves was a Delgican Highland Savage band from Kanwerp,Degoland. The band's fast tempos, instrumentals, and aggressive musicianship placed them as one of the founding bands of the Highland Savage music genre of Degoland, alongside with Warpack and other bands.  They had a rough and trashy look, which made them popular among some of the younger Highlander youths of Degoland.
Background
Edit
The rise of music groups of the progresive scene of music in Degoland related to the often rural, backward and abandoned highlands of the hinterland of the country, is part both of the process of industrialization and urban inmigration among the highlanders to the coastal, industrial cities of Degoland: while the generations of their grandfathers and fathers tried to blend with the delgicans, the highlander youths, as a form of rebellion against the system and their own fathers, looked back at their past, recovering their ancestors traditions, and existing movements among the highlanders recovering diverse traditions, as of the Kanovs, Werewolves and orcs.
The siblings Alexis Fang (3256) and Yanis Fang (3252) were both born in Kanwerp, Degoland. Both are direct descendants of the legendary Werewolf Alpha Pumori of the White Fang. Growing up in the rougher parts of Kanwerp, Alexis and Yanis had a tough youth, but this only strengthened their band as sisters. filler
Style and lyrical themes
Edit
Unusually, the band The Chained Wolves, who where an activist group for the heritage, culture, rights and traditions of the werewolves, was a mixed Werewolf/Orc band, using imagery both from Werewolf folklore and Ozcura grey orc tribal history, such as warpaint.  Its Werewolf artists, litter siblings from the White Fang, used provocative imagery and violence to spice up their acts.  Quite often, their instruments didn't survive their gigs, with fans eagerly picking up the pieces behind them and treasuring them as souvenirs.
They were known for their songs which drew heavily from White Fang oral traditions - songs about Werewolf hunts, fights and wars, sometimes mingled with obscene lyrics about Werewolf sex and matings.  Their most famous work, though, was the album "The Rise And Fall of Pumori", with songs that included "Mongrel Monster", "Slave", "Die for Freedom", "Leader", "Fight, We Follow", "Mate", "Mother of Wolvez", "Moonlit Slaughter", "Eternal Warz" and the haunting closing number "Red Hood".
However, they also have numerous crowd pleasers, such as the poetically named "Duzendoeischo'ape", a Werewolf rock ballad of which the first lines effectively translate as "A thousand sheep in grassy meadows, slain, half eaten, blood staining the grass".
Discography
Edit
This is a complete discography of Chained Wolf, a Delgican rock band. The band has released 5 studio albums, 2 compilation album, 1 concert album and 21 singles
Unchained!
Edit
Wolves of Mondwargh
Edit
The Rise And Fall of Pumori
Edit
Bonus: Blind wUlf SeeR (Only on "Rise and Fall of Pumori - ReviziT" edition)
Broken Chainz (compilation album)
Edit
Tales of Polforia
Edit
War Criez (ft. Issa Claw of "Warpack")
Black Towers (ft. Nalla Huntspear of "Ozcura Rising")
Return to Polforia
Edit
Swamp Witchez (ft. Nalla Huntspear of "Ozcura Rising")
OathBreaKer (ft. Deltkarr Rutgarr of "KinnSlayer")
Forever Polforia (compilation album)
Edit
Black Towers (ft. Nalla Huntspear of "Ozcura Rising")
Swamp Witchez (ft. Nalla Huntspear of "Ozcura Rising")
OathBreaKer (ft. Deltkarr Rutgarr of "KinnSlayer")
Kaptiv Krowdz (live concert album)
Edit
H0WL ("Thousand Werewulvz" version)
Wolves 'n Orcz/ barePack Rider (ft. "KinnSlayer")
War Criez ("Chained Wolves" vs "Warpack")
Duzendoeischo'ape (LowdKrowd version)
CYRTI (Balad of Cyrti version)
Mongr3l Monsta (ft. Issa Claw of "Warpack")
OathBreaKer (ft. "KinnSlayer")
Bonus: Run free tru Forests (ft. "Howling Wolf" choir)
Chained Wolves is the creation of Kanyiko
Community content is available under
CC-BY-SA
unless otherwise noted.