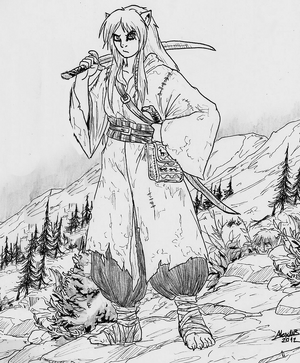 Kanyiko the Half K'nir
(K'Hiff, ? - ? ) was a half human, half
K'Nir
adventurer from the
Huneeus-Hund
pack, from the
K'Hiff
archipielago.
Due his mixed heritage, not seen by many K'Nir as a full member of the pack, but pledged to it, while looking for his own place as well in the world, he served the Huneeus-Hund as an adventurer and explorer of the near areas for trading possibilities, with his travels ranging the shores of Hieyokscream and the sea of Tok,
During one of his journeys, he will have an unfortunate encounter with an ozcura -an ozcura that soon will become a whole ozcura tribe, depending on him to return safely home.
Kanyiko in deviantArt
Edit
Kanyiko the Half K'nir is actually an avatar of Kanyiko, user of deviantart, creator of characters such as Pumori of the White Fang, Oyvald Traefod, the werewolf clan of the White Fang and much more in the fantasy age of Aiers, and in the Nebula of Ots, of INU-Space, KANYI-KORP and the Free Colony of Kanyikia.
Community content is available under
CC-BY-SA
unless otherwise noted.