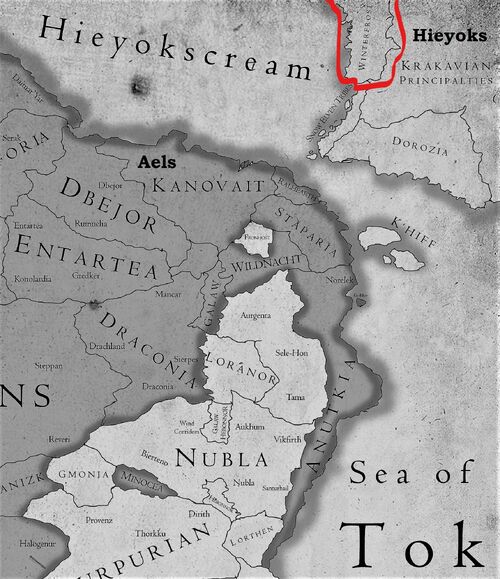 Winterfrost was one of the small northern Kingdoms in Hieyoks, in the Hieyokscream Sea. It is currently known to have been in existence in time to at least include the 23rd to the 25th Centuries a.a.H.
It was one of the uncommon successful nations with a diverse population: Snow elves (particularly Southern Snow elfs, Dwarfs, Humans, Yak Yaks (giants) and Kanovs, ruled by smaller warlords, being the greatest of them the Lord of the North.
Being in hostile lands, where surviving was hard, the economy was rather limited, exporting mostly pinewood, coal and their cattle, reindeer and derived products.
This produced hardly enough for the economic needs of Winterfrost, who imported candied fruits and flour -which they used among other things, to produce their autoctone and well know confectionery.-
Because of this, the Lord of the North once decided to expand their trade, producing more elaborated products, becoming well know the inventive innovations, brightly painted woodwork and toys.
Due the economic needs, the rulers of Winterfrost wanted as well to expand their existing industries, of timber and coal mines, and so it was decided, as the central power of the Lord of the North expanded, to replace the traditional consuetudinary laws based in vengeance and retribution, to forced work and economical punishments, that were chosen by the Lord of the North, acting as supreme judiciary power of Winterfrost, once in a year, while during the year nobles and minor warlords acted as judges.
Normally, the Lord of the North, near the festivities of the end of the year in winter, will open the sessions as Judge.
There, it was judged how the accused acted, not only in the specific crime, but during the year, meant this way to help the active and positive members of a community.
Once from his throne the Lord of the North decided, his verdict was known from the hands of his snow elves helpers, who gave the accused a gift:
If it was a Gift -Normally socks. Snow elves love socks! And sweaters too- it meant he was considered innocent from his crimes... or at least, that his good deeds that year were superior to his bad ones.
If instead, he got coal, it meant the destiny of forced work in the Coal mines.
Nobody really knows how, but somehow the Vanolosé, who traded with Winterfrost, adopted this into a festivity tradition for Children. Nobody cared about it, until they take as well one of the main celebrations of their human Christian subjects, and commercialized it as an excuse to buy, sell, and give gifts to each other. But the Vanolosé really did that to all the festivities of all religions of all their subjects, so they didn't feel bad about that.
Vanolosé love gifts. And eating much. And being in family. And not working.
Community content is available under
CC-BY-SA
unless otherwise noted.